President Message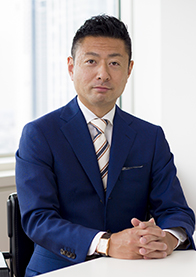 For new growth with corporate philosophy
Firstly we would like to deeply appreciate to all shareholders and investors for your great support.
As of April 1 2014, we celebrated the 10th anniversary. In the fiscal year ended March 31,2014, our total earnings was over 5.7billions yen and we achieved 9 times earnings growth in a row from the day of our foundation in 2005. Also we had achieved the stable growth. These excellent performances owed mainly to your support, so we would like to say great thanks to you again.
The stock of our company had been listed in JASDAQ stock market in 2009 and in 2011 our institutions had been shifted to a holding company structure containing with two subsidiaries which had been operating mainly in the business field of energy saving and "Smart-house project". In this way, we had been pursuing high-growth and intensifying the base of corporate profits.
Gremz-group had been maintaining the company policy as getting satisfactions of all ones including all customers and end-users. We are not only a sales agent, we are sharing a business vision with makers. As a result, we are highly evaluated from makers with our precise business proposals.
At this occasion we found gremz ventures,Inc. which pursues new business fields not related existing business, as first one of incubation business segment. As a result, we expect that brand new business will be born actively in gremz-group.
We will be maintaining our present company philosophy "Filling the World with inspiration and joy". At the same time, we will respond flexible and promptly to changes of the surroundings and endeavor along your expectations.
At the end, we hope more advices and encouragements of yours in the future.
Masaomi Tanaka
President
Chief Executive Officer
gremz, Inc.